Private Coaching With Dr. Carla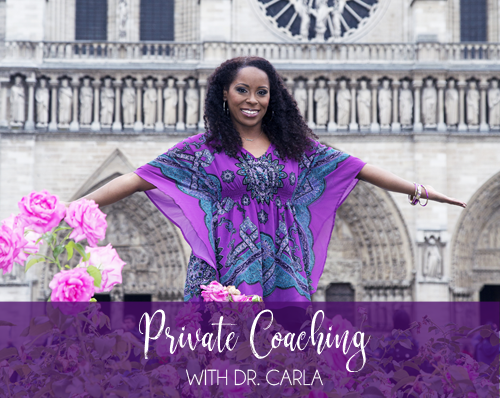 You're a great parent and try your best to provide everything that your daughter needs, but you want additional support to help her navigate the teen years, build confidence, overcome challenges, make positive choices, 0and develop healthy friendships so she can be happy, healthy and step into her full potential.
If you're committed to helping your daughter change her life and become her best self, Dr. Carla can help.  She isn't just a life coach or mentor, she is a thought leader in the field of girl empowerment, internationally recognized expert on adolescent girls' health and behavior, certified transformational coach, sought-after inspirational speaker, and founder of Teen Girl University™.  She is also the founder of the A Heart for Girls™ Academy, where she trains educators, speakers and coaches in her signature methods that positively change the lives of girls worldwide.
Dr. Carla is skilled in connecting with girls from all walks of life and guiding them to view themselves and the world around them in new ways that inspire them to recognize the true source of their personal power, move past whatever is holding them back, and transform their untapped potential. From peer pressure, friendship drama, academic stress, social media, and body image concerns, Dr. Carla helps girls become critical thinkers, live authentically, and trust their inner wisdom, so they can consciously navigate girl world with confidence and achieve their goals.
Imagine what is possible for your daughter when she has the professional support and guidance she needs to transform her attitude and self-concept, build her confidence, and make positive choices during this critical period in her life. One-on-one coaching with Dr. Carla is an unforgettable experience that can equip your daughter with priceless lessons that she can turn to for guidance for the rest of her life.
"Dr. Carla, Help My Daughter!" Phone Consultation
If this piques your curiosity, we invite you to apply for an initial consultation with Dr. Carla.
She offers complimentary no-obligation "Dr. Carla, Help My Daughter!" Phone Consultations as her schedule permits to parents who are committed to investing in their daughter's future and are serious about exploring whether her personalized one-on-one coaching program is a good fit for their family.
Are you ready to find out how Dr. Carla can help your daughter?
To be considered for an exclusive private coaching spot, please submit the confidential application below to determine whether her private coaching program is the best solution for your daughter.  Please take a moment to read the Frequently Asked Questions about Coaching before you submit the application. For optimal consideration, please provide detailed information about your daughter.
This May Be Right For You If…
Your daughter is a good kid with big dreams and unlimited potential, but you are concerned that her desire to fit in or be liked by her peers may lead her to make an unwise choice that could derail her future.
Your daughter is a candidate for coaching and is highly functioning on a daily basis
Your daughter is open to coaching, respectful towards adults, and willing to meet with an open-minded coach who is easy to talk to and can help her overcome her challenges
You are prepared to make a significant financial investment in a high-level private coach for your daughter
If you have a spouse or partner who needs to approve or is financially responsible for coaching, he or she is 100% supportive and believes in the value of hiring Dr. Carla to coach your daughter
You are not overbearing and are willing to trust Dr. Carla to guide your daughter's coaching
What Is The Investment for Private Coaching?
Private coaching is not for everyone. Due to Dr. Carla's demanding coaching, speaking and travel schedule, she only works with a limited number of private clients at a time to ensure that she can build a strong partnership with your family and deliver highly personalized services to support you and your daughter's growth.
The investment for Dr. Carla's private coaching packages reflects her expertise and begins at $2,500 USD, depending on the length of the package, frequency and length of sessions, and the level of support you and your daughter need.  Factors that affect the investment include whether or not you desire an in-person component, one-day intensive, additional support for the parent(s), or a mother-daughter bonding intensive. Dr. Carla accepts Visa, MasterCard, Discover and American Express and you have the option of splitting your payment across two cards at the time of enrollment.
How Can My Daughter Work With Dr. Carla If I Am Unable to Invest in Private Coaching?
If private coaching is beyond your budget, there are other options! Dr. Carla is committed to helping as many girls as possible and there are other ways for your daughter to work with her at various price points. Please sign up for the email newsletter to be the first to know about upcoming speaking engagements, workshops, and online group coaching opportunities for girls. If you are interested in enrolling your daughter in Dr. Carla's group coaching programs for pre-teen and teen girls in Atlanta, click here to sign up to receive updates. You do not need to submit the private coaching application below.
How Long Will My Daughter Coach With Dr. Carla?
Transforming your daughter's mindset, attitudes, self-concept and behaviors doesn't happen overnight.  Coaching requires a commitment of time in order to be most effective. It is impossible to predict how coachable your daughter is and how long she will need to coach with Dr. Carla, however, most parents begin with 3-6 months. Dr. Carla's track record of mentoring girls is outstanding and 100% of her clients renew their packages. Those who start out with shorter-term packages typically end up working with her for a minimum of 6 months. Some clients choose to invest in coaching for 9-12 months after the initial package and renew year after year.
Dr. Carla will recommend a package for you based on your needs and budget. Please note that single sessions are not available.
Who Should Complete This Form?
This form should only be completed by the parent/guardian or adult who will be financially responsible for private coaching. If you are under 18, your parent/guardian must submit this form for you.
Please note that it is ideal for both parents to be supportive of the coaching partnership (if applicable).  If there is a spouse or partner who will need to approve or contribute financially to your daughter's coaching, please share Dr. Carla's website with him or her before submitting the application below to confirm that they are open to investing in life coaching. In addition, both parents will need to be available for the phone consultation if you are not able to make a decision, approve the investment, and process the payment on your own.
After Dr. Carla personally reviews your application, here's what will happen:
If it sounds like coaching is a fit, a member of our team will be in touch to schedule a "Dr. Carla, Help My Daughter!" phone consultation when a spot opens up in Dr. Carla's calendar.  During this phone call, we will explore your challenges, concerns and goals for your daughter in more detail and discuss whether coaching with Dr. Carla is the best option to help your daughter reach her full potential. After reviewing your individual situation, we will kindly let you know if private coaching isn't a fit at this time and make other recommendations.
Can Dr. Carla Coach My Daughter if She Has a History of Depression, Eating Disorders or Self-Injury/Cutting?
Coaching is a different approach than therapy and coaching is not appropriate for everyone.  Coaching is for people who are well-adjusted, emotionally healthy, and effectively functioning.  If your daughter has a current or past history of counseling/therapy, depression, or eating disorders, coaching may not be the best option for her.  Read the FAQs for more information about the difference between coaching and therapy.
If your daughter is struggling with anger management challenges, diagnosed personality disorders or a history of self injury/cutting or violent behavior or aggression towards others, please seek help from your daughter's physician or a qualified mental health professional.
IMPORTANT: If you or your daughter is experiencing an emergency or self-injurious thoughts or behaviors (cutting, overdosing, suicide, etc.), consult a licensed mental health provider and/or call 911 immediately!
By completing the form below, you agree to the following:
If private coaching is a fit for my daughter and a spot is available, I am in a financial position to invest in a short-term package (starting at $2,500-$5,000+ USD) without being burdened by the investment.
I understand that coaching is not psychotherapy, medical treatment, counseling, or financial/legal advice of any kind and does not claim to be psychotherapy, medical treatment, counseling or financial/legal advice of any kind. I agree to seek other professional services as needed.
I understand that Dr. Carla Stokes holds Ph.D. and Master of Public Health degrees in Health Behavior and Health Education from the University of Michigan and is not a psychologist, therapist or medical doctor.
I am fully responsible for the decisions and actions I take in regards to my life and personal and business affairs.
I agree to assume any and all all risks, foreseeable and unforeseeable, that may be associated with or may result from my participation in the phone consultation.
I understand that Dr. Carla LLC makes no guarantees or warranties, expressed or implied, about any results to be achieved.
I shall in no way hold Dr. Carla Stokes and Dr. Carla LLC liable or responsible for any actions, claims, demands and suits of any nature  after this phone consultation.
I waive and release any claims arising or resulting from Dr. Carla's questions, suggestions, and advice and from my own actions, choices, and decisions or those made by my spouse or children.
I understand that by submitting an application for private coaching I will be added to Dr. Carla's email waiting list if a spot is not available.
I agree to respect Dr. Carla's time and provide at least 24 hours advance notice in the event that I must cancel my scheduled coaching session. I understand that space is limited and there is no guarantee that my session will be rescheduled.
By clicking on the "submit application" button and submitting the form below, I acknowledge that I have read the entire Coaching Agreement, that I understand all aspects within it, and I agree to abide by it. I also give Dr. Carla permission to contact me and send me future updates, tips and resources for parents of girls, and special invitations.  
Thank you for your interest in hiring Dr. Carla to coach your daughter. We will be in touch as soon as possible.