Dr. Carla Stokes is recognized as a leading authority and trailblazer in the fields of women's and girls' health and empowerment; adolescent/teen health and sexuality; girlhood; violence against women and girls; social media and the impact of media, popular culture and technology on girls' health, identity and body image.  Dr. Carla's activism and original research has been highlighted in academic books, studied at post-secondary institutions around the world, and featured in local and international media outlets and popular web sites.  She has also been interviewed as an expert on morning shows and television networks around the United States such as NBC, CBS and Fox.
Dr. Carla Has Been Featured In
Details for Booking Dr. Carla
To inquire about Dr. Carla's availability for media and spokesperson opportunities, e-mail (fastest response) or call 877-772-2752, ext. 1 (this phone number is for press inquiries only)
Dr. Carla's Availability
Based in Atlanta, Georgia
Available for in-studio interviews, television bookings, expert commentary, and other media opportunities, as well as live and satellite media tours
Nationwide availability by arrangement
Last-minute appearances based on availability
Areas of Expertise
From health issues to teen behavior, Dr. Carla will bring a fresh and engaging perspective to your next segment. Topics she can cover include:
Young women's and girls' health and wellness issues
Teen health, behavior, sexuality and wellness
Youth, media literacy, and popular culture
Youth and social media/cyberbullying
Representations of women and girls in the media and the impact of sexualization on girls
Teen dating, friendships and relationships
Teen dating violence and street harassment
Healthy body image and self-esteem in women and girls
Educating parents and concerned adults about teen issues
Photos
If you have interviewed Dr. Carla or booked her for a speaking engagement or appearance, click here to download high resolution photos.
Watch Dr. Carla's TV Reel
Featured Media Coverage
This Mom's Photos Nail The Dangers of Body Shaming Ourselves In Front of Our Kids
ATTN:
What Happens When Girls Are Weight Shamed Early In Life
ATTN:
Bic Apologizes for Controversial Ad That Sparked Major Backlash
Yahoo! Parenting

An Idealist Reinvents Herself
University of Michigan School of Public Health Findings Magazine (Special Issue: What Does It Take to Change The World?)
Fun Ways to Bond With Your Teen
Woman's Day, September 2014 (p. 97)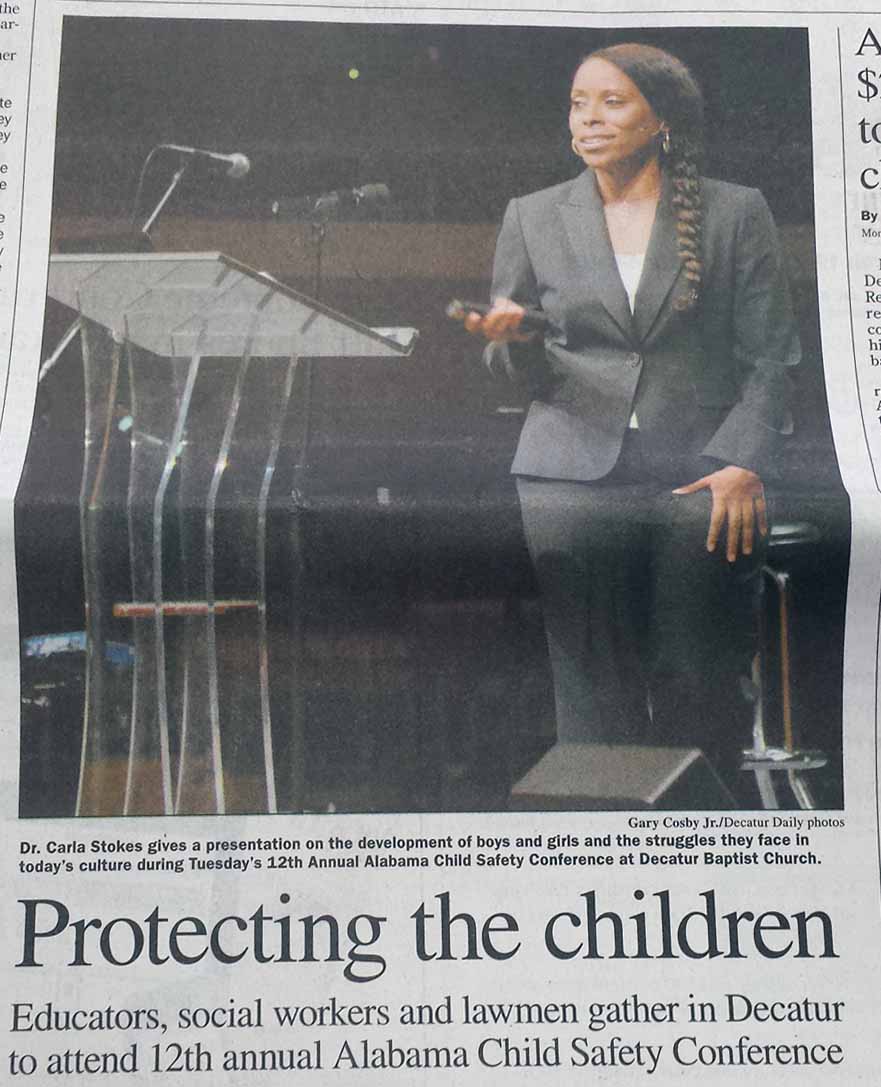 Protecting the Children
Decatur Daily
Alabama Child Safety Conference on Tuesday (PDF)
Decatur Daily (feature story on Dr. Carla)
Hundreds Gather in Decatur to Discuss Child Safety
Huntsville News | ABC 31 WAAY-TV Huntsville
Child Safety Conference Draws Hundreds
Fox 54 Huntsville

Cheers: Dr. Carla Stokes Selected for Outstanding Atlanta
The Atlanta Voice
View PDF
Cheers: HOTGIRLS Awarded $8,000 Community Service Grant Award at National Association of University Women Annual Convention 
The Atlanta Voice
View PDF
Press Release
University Women to Convene at Hyatt 
The Atlanta Voice
View PDF
Lift Every Voice: Empower Your Daughter Right Now!
Real Health: The Black Wellness Magazine
The Ice Queen
Real Health: The Black Wellness Magazine
Special Report: State of Our Girls
Protecting Our Girls from Domestic Violence and Sexual Assault
Heart & Soul Magazine (pp. 61-64)
View PDF
The sex factor in black AIDS
The Loop
Obama as Role Model for Black Youth
Reuters
Hit by HIV, black women reach in to cope, out to empower
Star-Telegram
Eve's Circle' holds girls' conference in Montgomery (coverage of Dr. Carla's keynote and workshop)
Montgomery Advertiser
Video: Girls Talk Over Issues in Eve's Circle (coverage of Dr. Carla's keynote and workshop)
Montgomery Advertiser
Hipper Hop
Poz Magazine
Lifting Up, Giving Back: Changing One Life at a Time
The Crisis (pp. 30-33)
Dr. Stokes' HOTGIRLS: Researcher Uses Hip Hop to Educate Young People
American Sexuality magazine
H.O.T.G.I.R.L.S. Helping Our Teen Girls In Real Life Situations (PDF)
Sisterhood Agenda magazine (p. 12) (Flash)
AIDS & Black Youth
SeeingBlack.com
Doin' It for Themselves (PDF)
Online: http://www.realhealthmag.com/articles/role_models_girls_2162_14145.shtml
Real Health: The Black Wellness Magazine (p. 40)
Success Stories: Rewriting Rap (PDF)
Daughters (p. 8 )
For Clues on Teenage Sex, Experts Look to Hip-Hop
New York Times
Rewriting Rap to Empower Teens
New York Times
'Uncut' is Cut from BET's Lineup
BlackPressUSA.com
Press Releases
Selected Blogs: