Check out Dr. Carla's interview featured in a special report on "Protecting Our Girls from Domestic Violence and Sexual Assault" in Heart & Soul Magazine where she talks about her work with girls and research findings related to teen dating abuse and the influence of media. Kudos to Heart & Soul for raising awareness about gender-based violence and important issues facing girls!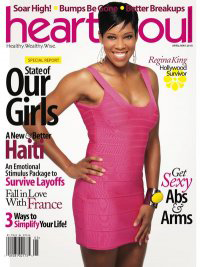 Article correction:
It was incorrectly reported in this article that I am a "medical doctor" (M.D.). Please note that I am not a physician. I earned a Ph.D. (Doctor of Philosophy) in Health Behavior and Health Education from the University of Michigan.
Please consult your physician or other professional health care provider for specific medical advice, diagnosis, or treatment.
April/May 2010 (pp. 61-64)
More from Dr. Carla: