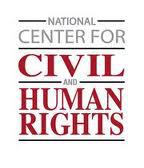 Over the weekend, I had the opportunity to speak to a diverse group of 200 women and girls in Atlanta, GA as a participant on a panel sponsored by the Women's Initiative Task Force for the National Center for Civil and Human Rights.  The purpose of the dialogue was to explore how women and girls in metropolitan Atlanta can come together to break down generational, cultural, and socioeconomic barriers to positively impact the lives of women and girls in the areas of education, leadership, economic empowerment, and health and safety.
As a health educator, researcher, speaker, coach, and founder of Helping Our Teen Girls In Real Life Situations, Inc. (HOTGIRLS)®, I am passionate about all of these issues. I have devoted nearly two decades of my life to uplifting adolescent girls by conducting research on women's and girls' health issues and developing programming that addresses pertinent public health and social justice issues such as girls' education, health disparities, HIV/AIDS, sexual health, youth violence, teen dating violence, and media literacy.
As we discussed girls' leadership and economic empowerment, I was inspired to ask the audience if they had heard about an amazing girl empowerment movement called The Girl Effect. I was surprised that less than half of the audience was familiar with the powerful videos that left me in tears the first time I watched them. Simply put, the Girl Effect describes "the unique potential of 600 million adolescent girls to end poverty for themselves and the world." According to The Girl Effect, when we invest in a young girl's education in the developing world, she grows up to be a woman who can support herself and pull her entire family out of poverty.  Here's why:
When a girl in the developing world receives seven or more years of education, she marries four years later and has 2.2 fewer children.
An extra year of primary school boosts girls' eventual wages by 10 to 20 percent. An extra year of secondary school: 15 to 25 percent.
When women and girls earn income, they reinvest 90 percent of it into their families, as compared to only 30 to 40 percent for a man.
Despite all of the unsettling public health and social justice issues facing adolescent girls around the world, there is good news: Research indicates that we can make a huge impact on solving global problems like HIV/AIDS, poverty, and illiteracy just by supporting adolescent girls. Although The Girl Effect emphasizes the plight of adolescent girls in the developing world, I have personally witnessed the power of education, self-empowerment, and leadership to positively transform the lives of girls in the United States.
Here's a video clip from the panel discussion: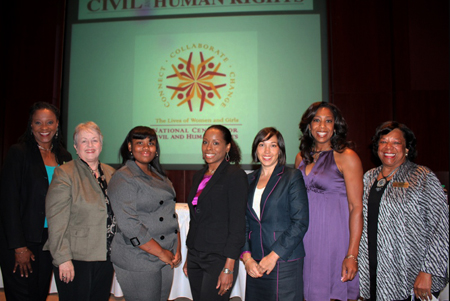 L-R: Angela Robinson, Emmy award-winning Broadcast Journalist; The Honorable Nan Orrock, Georgia Senator, District 36; My amazing 13-year-old mentee, Mary -Pat Hector, Founder & National President of Youth In Action; Jessamyn Ressler-Maerlender, Interim Executive Director of The Refugee Women's Network, Inc.; Dr. Carla Stokes; Dawnn Lewis, Actress & Singer; Deborah Richardson, Executive Vice President of the National Center for Civil and Human Rights
The event culminated with each participant filling out a commitment card and pledging to commit to making a difference in the lives of women and girls. This task felt natural for me because it is in alignment with my personal mission to help women, youth, and girls achieve their personal best in life, make healthy choices, and create positive change in their own lives and communities. On a personal level, I am committed to expanding my girl empowerment programming and reaching women and girls around the world through speaking, writing, and creating curricula and programming devoted to supporting adolescent girls in realizing their full potential. To this end, I am currently writing a book and developing a health education, life coaching, and empowerment curriculum for adolescent girls. It was inspiring to have the opportunity to brainstorm with women and girls across generations and learn that we are all concerned about our collective empowerment and committed to taking action to improve the health and lives of women and girls.
A few days after the panel discussion, I was excited to learn that hundreds of bloggers are joining together to spread the word about The Girl Effect during the week of October 4-11. How's that for synchronicity?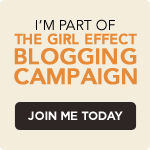 Watch these inspiring videos to learn about the Girl Effect and find out why girls are "the most powerful force of change on the planet":
Click here to watch more Girl Effect videos.
I hope that you are as inspired by the Girl Effect campaign as I am and will join me in helping girls reach their full potential. Even if you are not involved in girl empowerment efforts, there are many ways that you can help this movement and be part of the solution.
So what are you going to do to help uplift girls? Leave me a comment and let me know how you are committed to making a difference in the lives of  girls!
How You Can Help
Spread the Word About The Girl Effect – You can help spread the word by forwarding this post to a friend or colleague, sharing the videos, tweeting, posting on Facebook, planning a party, and more! Click here for other ideas.
Join The Girl Effect Blogging Campaign – If you feel moved to spread this message, I hope you'll join me in writing a post about The Girl Effect during the week of October 4-11. Joining the Girl Effect Blogging Campaign is a great way to connect with other bloggers who are committed to empowering girls. Just click here to learn more and sign up! You'll receive the details on how to create your post. I hope you'll join me!
Volunteer your time to girl-serving organizations
Be a mentor to a teen girls
Donate to organizations that educate and empower girls – As the founder of Helping Our Teen Girls In Real Life Situations, Inc. (HOTGIRLS)®, a 501(c)(3) nonprofit organization dedicated to improving the health and lives of underserved young women and girls, I know first-hand how challenging it can be to raise funds for girl empowerment organizations — especially in the current economic climate.  I encourage you to contribute financially to support the important work of girl empowerment organizations that are working to positively impact the lives of girls.
More Information
Subscribe to my email newsletter to receive tips and resources for educators and girl allies and updates about my upcoming events, projects, and programs for girls.
Click here to read other Girl Effect blog posts.
"Half the Sky" by Nicholas Kristoff and Sheryl Wudunn
More from Dr. Carla: